Happy Burger
Talk

0
2,029pages on
this wiki
Heather Mason exits the Happy Burger
Location
Corner of Sanders St. and Neely St. (Silent Hill 2)
Central Square Shopping Center (Silent Hill 3)
Appearances
Silent Hill 2
Silent Hill 3
Silent Hill: Revelation
Happy Burger is a burger joint featured in Silent Hill 2, Silent Hill 3 and Silent Hill: Revelation.
Silent Hill 2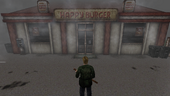 In Silent Hill 2, the interior of Happy Burger cannot be explored, but it can be seen from the outside. It is located in South Vale, on the corner of Neely St. and Sanders St., south of Neely's Bar.
Silent Hill 3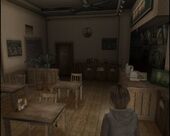 In Silent Hill 3, Heather Mason visits Happy Burger in the Central Square Shopping Center. She accidentally falls asleep inside the store and has a dream about Silent Hill. After waking up, she exits the store. Happy Burger can be revisited after defeating the Split Worm. In the store is a save point and a few items. If Heather examines the table where she was at, she comments on how she wishes she was still sleeping there.
Silent Hill: Revelation
Sharon Da Silva passes through Happy Burger while having a hallucination at the mall. She witnesses a butcher slicing a human body. Frightened, Sharon makes her way deeper into the mall.
Trivia