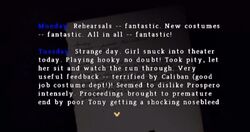 The Handwritten Diary Page is a memo found in Silent Hill: Origins. Travis Grady can locate it in the Director's office on the first floor of the Artaud Theater.
Transcript
"Monday: Rehearsals — fantastic.

New costumes — fantastic. All in

all — fantastic!


Tuesday: Strange day. Girl snuck

into theater today. Playing hooky, no

doubt! Took pity, let her sit and

watch the run-through. Very useful

feedback — terrified by Caliban

(good job costume dept!)! Seemed to

dislike Prospero intensely.


Proceedings brought to premature

end by poor Tony getting a shocking

nosebleed during Act I, Scene 2.

Will continue tomorrow!"
Ad blocker interference detected!
Wikia is a free-to-use site that makes money from advertising. We have a modified experience for viewers using ad blockers

Wikia is not accessible if you've made further modifications. Remove the custom ad blocker rule(s) and the page will load as expected.