Ad blocker interference detected!
Wikia is a free-to-use site that makes money from advertising. We have a modified experience for viewers using ad blockers

Wikia is not accessible if you've made further modifications. Remove the custom ad blocker rule(s) and the page will load as expected.
Hand-to-hand fighting or fisticuffs, is fighting with one's own hands. To date, there are only three Silent Hill games that feature fist fighting, being Silent Hill: Origins, Silent Hill: Downpour and Silent Hill: Book of Memories, most likely because all three games feature a breakable weapons system, meaning that the player must have some form of alternate offense if no other weapons are available; however, this is very unlikely to happen in Origins.
Silent Hill: Origins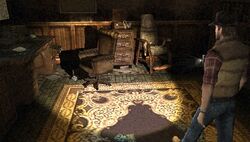 Travis Grady can find many degradable weapons. However, if these break and Travis has no weapons on his person, he is forced to use his fists. At the start of the game, this is a good idea, as stock-piling weapons early on will mean there will plenty later in the game. As most enemies at the start are fairly easy to kill, there should be no trouble. But it is very unlikely that Travis will ever run out of weapons, as he can store infinite amounts in his inventory. Punching will lower Travis's stamina.
Silent Hill: Downpour
Murphy Pendleton can find many different weapons but all of them will break after some time. As Murphy can only have what he can hold in his hands, the likelihood of Murphy having to fight bare handed is much greater than in Origins. Murphy is not an excellent fighter and as a result, his punches will do little against the monsters of Silent Hill, but the ability is still quite useful and altogether needed for the system. Murphy does not have stamina, so he can punch for a long time, though it is best to simply stun enemies and run, or look for a weapon.
Silent Hill: Book of Memories
The player can fight with their fists whenever a weapon breaks.