Guy Cihi
Talk

3
2,086pages on
this wiki
Guy Cihi is the actor who voiced James Sunderland in Silent Hill 2. Beyond providing the voice and motion capture for James, he has never worked in the video game industry before or since then.
Silent Hill HD Collection
Upon hearing that the original voices in Silent Hill 2 were to be replaced in Silent Hill HD Collection, Cihi posted on his Facebook page that the reason behind the change was because Konami refused to pay him for his work as James Sunderland for the game's re-releases on other consoles.
Mary Elizabeth McGlynn, who had taken over the new voicework, claimed Cihi was in the wrong and had been ignoring calls from Konami representatives trying to work the problem out. Further statements from other creators for the HD Collection, as well as from Thessaly Lerner (the voice actress for Lisa Garland in Silent Hill), affirmed that "residuals", payments made to actors after their initial payment for the use and re-use of their performances, do not exist in the gaming industry. Statements by David Schaufele (the original voice actor for Eddie Dombrowski) have said otherwise. Currently, the actor's union in the United States, SAG-AFTRA, does not have a residuals system in place for video game voice acting performances, and under non-union contracts, residuals for any kind of acting work are almost non-existent, with almost all performances being paid for as buy-outs (one-time payments for unlimited use and re-use). However, it is possible that actors in Japan are compensated differently, and all of the original motion-capture and voice acting work for Silent Hill 2 was recorded in Japan, giving a possible explanation for the discrepency over Cihi's claims regarding residuals. In any event, Cihi eventually decided against legal action, and instead wrote a letter to Konami.
Eventually, Cihi met up with Monica Taylor Horgan (Mary Shepherd-Sunderland and Maria), David Schaufele (Eddie Dombrowski), Devin Shatsky and Tomm Hulett, and the voice actors gave Konami their permission to use their voices for any re-releases of Silent Hill 2, allowing their voices to be used in Silent Hill HD Collection.
Trivia
Cihi reprised his role for a YouTube video of a fan-fiction novelization of Silent Hill 2. [1]
Cihi's daughter auditioned for a role in Silent Hill 2, which was actually the only reason Guy Cihi was present at the studio the day of auditions. With acting in his high school and college history, he soon became interested and he himself auditioned for James Sunderland.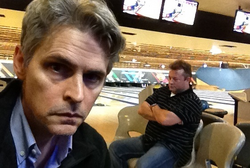 When Cihi and Schaufele were going to visit Tomm Hulett, Monica Horgan, and Devin Shatsky in LA, they passed by a bowling alley that reminded them of Pete's Bowl-O-Rama. For reminisces, they ran inside, took a picture, and then continued to meet their former co-workers for dinner.
Cihi's birthday is on the same day as the release of the first game, January 31st.
Interview
External links