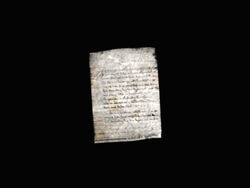 The Guard's Diary is a diary that Henry Townshend finds on his first exploration into the Water Prison World in Silent Hill 4: The Room. It can be found pinned on the wall to the right of the portal in the passageway room at the south end of the 1F.
Transcript
To get to the surveillance rooms in the middle of this complex, you have to use
the corpse disposal chutes in the cells. However, on the 1st and 2nd floors,
these cells are locked. That's so the kids wouldn't discover them.

So you have to get to the 1st floor from one of the cells on the 3rd floor. I know
how to do it, but it's really a pain. Also, the lights only work on the 3rd floor.
Ad blocker interference detected!
Wikia is a free-to-use site that makes money from advertising. We have a modified experience for viewers using ad blockers

Wikia is not accessible if you've made further modifications. Remove the custom ad blocker rule(s) and the page will load as expected.