Description
"Solid gold watch with metal bracelet."
Purpose
Put it on a hand display in the bedroom of the 3rd floor apartment
Location
Apartment building on Lansdale Avenue, 3rd floor apartment, in the box under the bed frame.
Appearances
Silent Hill: Downpour
The Gold Watch is an item used in the "Stolen Goods" sidequest in Silent Hill: Downpour. It is found in the thief's apartment on Lansdale Avenue. The watch belongs in the same apartment as a locket. It must be placed on a hand display in the bedroom. In its absence, loud ticking of a watch will be heard.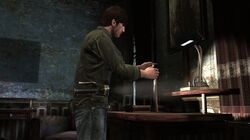 Ad blocker interference detected!
Wikia is a free-to-use site that makes money from advertising. We have a modified experience for viewers using ad blockers

Wikia is not accessible if you've made further modifications. Remove the custom ad blocker rule(s) and the page will load as expected.