Henry inside the abandoned pet shop
Appearances
Sient Hill 4: The Room
Garland's is a pet store in Ashfield that Henry Townshend explores as he searches through the Building World in Silent Hill 4: The Room. There is not much left in the store besides shelves of pet food and supplies. Henry must simply pass through to further explore the Building World. During Henry's second visit, he must place a stuffed cat inside a cage in the pet shop, which is now populated by numerous ghosts.
History
The pet shop was formerly owned and run by Steve Garland, hence the name of the store. Garland fell victim to Walter Sullivan's homicidal spree and became the 4th victim in a list of increasing murders. Walter met Steve Garland as a child after accidentally dropping one of the kittens in the store, injuring it. Many years later, Walter brutally murdered Steve with a sub-machine gun and then proceeded to kill every animal in the store.
Trivia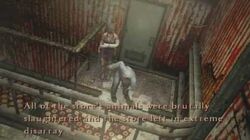 During Henry's second visit to the Building World, lots of animal sounds can be heard. If Henry reads the note on Steve Garland's murder, noises such as gunfire, breaking and damaged items, dogs, and cats dying will be heard. Upon entering the store again, it will be a complete mess; the walls will be riddled with bullet holes, the furniture will be strewn around (leaving only a narrow passage for the character to pass through), and there will be several bloodstains on the ground. The animal sounds will be gone as well.
Gallery
Ad blocker interference detected!
Wikia is a free-to-use site that makes money from advertising. We have a modified experience for viewers using ad blockers

Wikia is not accessible if you've made further modifications. Remove the custom ad blocker rule(s) and the page will load as expected.