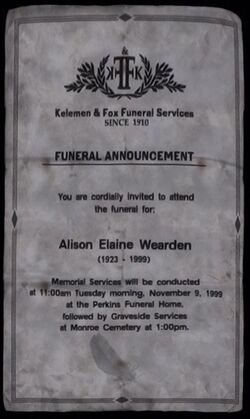 The Funeral Announcement is found in Silent Hill: Downpour, on a bed in the bedroom of a house on Rice Street in Pleasant River. This is an invitation to the funeral of a seventy six year old woman named Alison Wilson at Perkins Funeral Home.
Transcript
Kelemen & Fox Funeral Services Since 1910
FUNERAL ANNOUNCEMENT
You are cordially invited to attend the funeral for:
Alison Elaine Wilson
(1923 - 1999)
Memorial Services will be conducted at 11:00am Tuesday morning, November 9, 1999 at the Perkins Funeral Home, followed by Graveside Services at Monroe Cemetery at 1:00pm.
Ad blocker interference detected!
Wikia is a free-to-use site that makes money from advertising. We have a modified experience for viewers using ad blockers

Wikia is not accessible if you've made further modifications. Remove the custom ad blocker rule(s) and the page will load as expected.