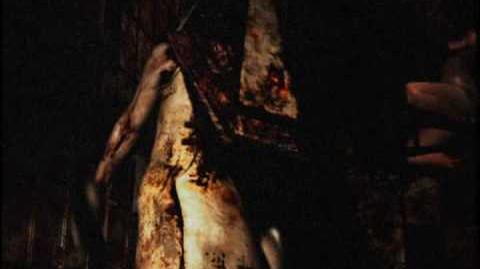 袋 Fukuro (Japanese for "bag" or "sack") is a 3-minute short film from 2001. It features Pyramid Head and a Lying Figure from Silent Hill 2, the Fukuro Lady, and many monsters from early sketches for Silent Hill 2. The film contains disturbing, surreal imagery. Credits go to Masahiro Ito (series art director) for creature design and to Akira Yamaoka (series composer) for the music.
It has been published on Art of Silent Hill, Lost Memories: The Art & Music of Silent Hill, and The Silent Hill Experience.
Trivia
When Masahiro Ito was asked what the Fukuro video might symbolize, he replied that he "imaged the womb abstractly". [1]
See also
Gallery
Ad blocker interference detected!
Wikia is a free-to-use site that makes money from advertising. We have a modified experience for viewers using ad blockers

Wikia is not accessible if you've made further modifications. Remove the custom ad blocker rule(s) and the page will load as expected.