Gates defending himself from Anne
Cause of death
Killed by the Weeping Bat
Appearances
Silent Hill: Downpour
Anne's Story
"
Name's Gates. Freddie Fuckin' Gates. Ain't no damn Pendleton here.
—Gates to Anne Cunningham

"
Freddie Gates is a character in Anne's Story. He was one of the prison transfers and is encountered after Anne believes she is seeing Murphy Pendleton killing Willis. Anne then attacks him but soon realizes that she instead tackled down Gates. He then tries to kill Anne but is killed by a Weeping Bat right as he raises the gun.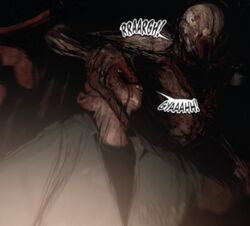 Ad blocker interference detected!
Wikia is a free-to-use site that makes money from advertising. We have a modified experience for viewers using ad blockers

Wikia is not accessible if you've made further modifications. Remove the custom ad blocker rule(s) and the page will load as expected.