A key used by the Founding Families of Shepherd's Glen
Description
"A bronze key with an ornate headpiece."
Purpose
Opens a trapdoor in Shepherd's Glen Town Hall.
Location
A reward for defeating the manifestation of Scarlet Fitch
Appearances
Silent Hill: Homecoming
The Founders Key is an item obtained in Silent Hill: Homecoming. It is used to access the chamber hidden beneath the Shepherd's Glen Town Hall. The key is found to have been inside Scarlet Fitch's doll after Alex defeats Scarlet. According to one memo, Dr. Fitch was given the Key to the City for his heroic actions in rescuing a young Alex Shepherd and a bus full of other children from a freezing river. This key may have been the Founders Key.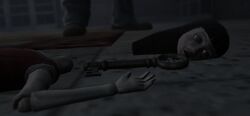 Ad blocker interference detected!
Wikia is a free-to-use site that makes money from advertising. We have a modified experience for viewers using ad blockers

Wikia is not accessible if you've made further modifications. Remove the custom ad blocker rule(s) and the page will load as expected.