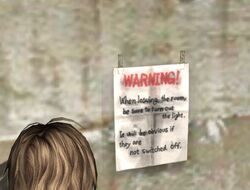 The Flashlight Memo is one of the memos found in Silent Hill 3 by Heather Mason. It is found glued to a wall inside a storeroom of the Otherworld Central Square Shopping Center, and to the entrance's right is a light switch. The storeroom itself is located at the left of the women's bathroom.
Reading the memo will give the player a hint that the switch must be turned off in order for Heather to spot the flashlight; however, the memo is not vital in order for her to figure it out herself.
Transcript
WARNING!
When leaving the room,
be sure to turn out the lights.
It will be obvious if they are
not switched off.
Ad blocker interference detected!
Wikia is a free-to-use site that makes money from advertising. We have a modified experience for viewers using ad blockers

Wikia is not accessible if you've made further modifications. Remove the custom ad blocker rule(s) and the page will load as expected.