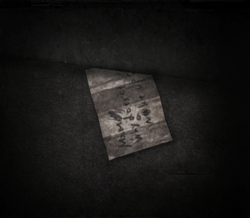 The First Letter is the first memo received in the game. This letter was written by Walter Sullivan to his "mother", Room 302. He thinks she is sleeping, and he wonders why she won't talk to him or let him inside. It can be found at the beginning of game in Room 302, slipped under the apartment door.
Transcript
Mom,
Why doesn't u Wake up?
Ad blocker interference detected!
Wikia is a free-to-use site that makes money from advertising. We have a modified experience for viewers using ad blockers

Wikia is not accessible if you've made further modifications. Remove the custom ad blocker rule(s) and the page will load as expected.