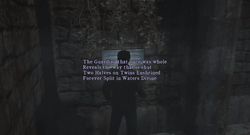 The First Gate Note is a memo found in Rose Heights Cemetery in Silent Hill: Homecoming. The note is found on a wall in the West Garden.
Transcript
The Guardian that once was whole
Reveals the way that is shut
Two Halves on Twins Enshrined
Forever Split in Waters Divine
Ad blocker interference detected!
Wikia is a free-to-use site that makes money from advertising. We have a modified experience for viewers using ad blockers

Wikia is not accessible if you've made further modifications. Remove the custom ad blocker rule(s) and the page will load as expected.