Description
"Key to door leading from hallway to fire escape. Found in 3rd floor hall."
Purpose
Unlocks the Fire Escape door at the west end of Wood Side Apartments, 2nd floor.
Location
Hallway, 3F Wood Side Apartments
Appearances
Silent Hill 2
The Fire Escape Key is found in the third floor hallway of the Wood Side Apartments in Silent Hill 2. The key opens the fire escape on the second floor of the apartments complex, allowing entry into the Blue Creek Apartments. James Sunderland will first try to get this key by reaching for it from the other side of a grill, which separates the third floor hallway; however, Laura appears, stamps on his hand and kicks the key out of reach.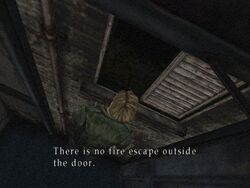 Ad blocker interference detected!
Wikia is a free-to-use site that makes money from advertising. We have a modified experience for viewers using ad blockers

Wikia is not accessible if you've made further modifications. Remove the custom ad blocker rule(s) and the page will load as expected.