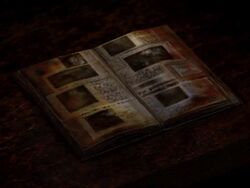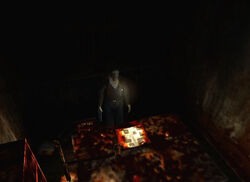 The Fire Article is a newspaper clipping that Harry Mason can find in the PAL and Japanese versions of Silent Hill. It is unknown why it is not present in the NTSC-U version.
It is located on the third floor of Nowhere in one of the locked rooms. The article mentions the fire that burned Alessa Gillespie seven years previously.
Transcript
"Fire broke out in town.

6 homes destroyed.

Charred body of Alessa Gillespie (7) found in aftermath.

Cause of fire currently under investigation.

Investigations show source as basement of Gillespie home.

Blaze now believed caused by malfunction of antiquated boiler."
Trivia
The Fire Article has caused a great deal of controversy within the Silent Hill fanbase. Some fans theorize that the article points to the fire of the Gillespie house being started by Alessa's psychic energy causing a boiler to accidentally explode. Evidence against this theory include both the official guidebook and Lost Memories, which state that the fire was started by the ritual itself, due to its use of "a great deal of fire".[1][2][3][4] It would seem that the article was a deliberate cover up carried out by the Order to hide the true cause of the fire.
After reading the memo, Harry will comment that it happened the same day he and his wife, Jodie Mason, found Cheryl Mason.
Travis Grady enters the fire described in the article in the beginning of Silent Hill: Origins. However, the Gillespie house appears to be secluded in both the opening scene of Silent Hill and in Origins, raising the question as to how the fire spread to the other six mentioned houses from the article.
In Silent Hill: Origins, the boiler malfunction is referenced in a police report, which is located in the Public Records Office.
References