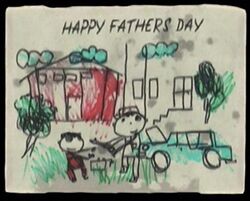 The Father's Day Card is found on top of a table in the large orphanage bedroom on the second floor of St. Maria's Monastery in Silent Hill: Downpour. It can only be accessed prior to using the blackboard eraser in the nearby classroom.
It is heavily implied that Charlie Pendleton made the card for his dad on Father's Day, as the drawing is hung up inside of Murphy's prison cell at Ryall State Prison, and Murphy comments that the drawing reminds him of Charlie when he picks it up.
Transcript
Happy Fathers Day
Ad blocker interference detected!
Wikia is a free-to-use site that makes money from advertising. We have a modified experience for viewers using ad blockers

Wikia is not accessible if you've made further modifications. Remove the custom ad blocker rule(s) and the page will load as expected.