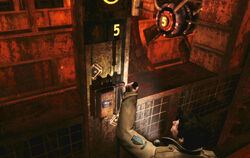 This article is a guide for a Silent Hill: Homecoming puzzle.
The Fan Puzzle is a puzzle found within Hell Descent in Silent Hill: Homecoming. It must be solved in order to progress and find Dr. Fitch and possibly Alex Shepherd's younger brother Joshua Shepherd. The puzzle consists of a series of fans, there are six fans in total, and four levers that controls them. The fifth lever is broken. Each pull of a lever switches off the adjacent fan that is currently on, and turns on the adjacent fan that is currently off. If the fan is turned on the fan's number is lit up. In the event that the switch is connected by two fans that are both on, or both off, the switch will have no effect.
Solution
There are six fans, numbered one to six. Three of the fans are turned on, with one of them permanently on, the green indicates they are on. The other three fans are turned off, the red indicates they are off. They are arranged in two columns if viewed from above:
1

6

2

5

3

4
Since there is only one path, the path on the right, the goal is essentially to transfer the working fans to the left. To do this simply transfer a working fan one by one until all fans turned on are on the left. The solution from the beginning is to pull the levers in the following sequence:
Pull the lever between 4 and 5

Pull the lever between 3 and 4

Pull the lever between 6 and 5

Pull the lever between 5 and 4

Pull the lever between 3 and 2

Pull the lever between 4 and 3
Note: Before solving the puzzle, it is wise to check the path on the left. Though it is blocked from passing through, there is a table found within that holds a valuable Serum.
Ad blocker interference detected!
Wikia is a free-to-use site that makes money from advertising. We have a modified experience for viewers using ad blockers

Wikia is not accessible if you've made further modifications. Remove the custom ad blocker rule(s) and the page will load as expected.