A picture of Dahlia inside of memento.
Location
Lakeside Amusement Park
Appearances
Silent Hill: Shattered Memories
Eve is a memento that can be found in Silent Hill: Shattered Memories. Harry Mason can retrieve it by playing the slot machine at the Lakeside Amusement Park.
The memento consists of a locket with a photo of Dahlia Mason (Harry's wife) inside. "True Happiness" is written on it.
The memento is a counterpart to the final memento in the game, a locket with Harry's picture in it, titled "Adam".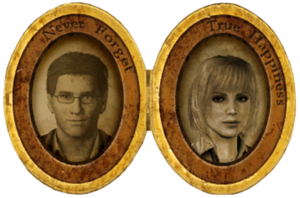 Ad blocker interference detected!
Wikia is a free-to-use site that makes money from advertising. We have a modified experience for viewers using ad blockers

Wikia is not accessible if you've made further modifications. Remove the custom ad blocker rule(s) and the page will load as expected.