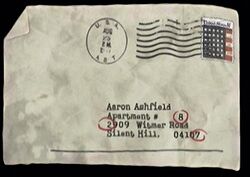 An Envelope can be found at the end of Laymond Avenue located in Pearl Creek in Silent Hill: Downpour. Various parts of the envelope are circled, which forms the number 827; this can be entered into a nearby keypad on a steel gate to gain access to a hidden area.
Transcript
Aaron Ashfield
Apartment #8
2909 Witmer Road
Silent Hill 04107
Ad blocker interference detected!
Wikia is a free-to-use site that makes money from advertising. We have a modified experience for viewers using ad blockers

Wikia is not accessible if you've made further modifications. Remove the custom ad blocker rule(s) and the page will load as expected.