Elevator ID cards are always useful
Description
"Elevator ID card for access to restricted floors."
Purpose
Grants access to the radio station.
Location
Centennial Building, 2nd floor vault, taken from the hanging body.
Appearances
Silent Hill: Downpour
The Elevator Identification Card is an item found in Silent Hill: Downpour. It is located in the vault on the second floor of the Centennial Building on a hanging dead body. The player uses it in an elevator to gain access to the restricted radio station.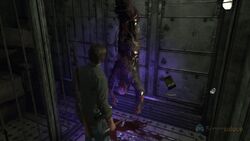 Ad blocker interference detected!
Wikia is a free-to-use site that makes money from advertising. We have a modified experience for viewers using ad blockers

Wikia is not accessible if you've made further modifications. Remove the custom ad blocker rule(s) and the page will load as expected.