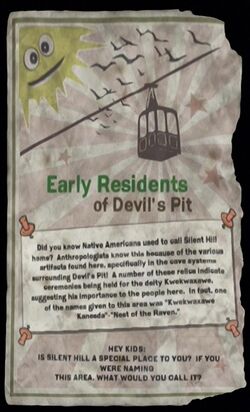 Early Residents is a flyer located in the seating area of the Devil's Pitstop, the first diner the player encounters in Silent Hill: Downpour. It outlines a brief history of the previous Native American inhabitants of Silent Hill as well as the discovery of artifacts in the Devil's Pit.
Transcript
Early Residents of Devil's Pit
Did you know Native Americans used to call Silent Hill home? Anthropologists know this because of the various artifacts found here, specifically in the cave systems surrounding Devil's Pit! A number of these relics indicate ceremonies being held here for the deity Kwekwazawe, suggesting his importance to the people here. In fact, one of the names given to this area was "Kwekwaxawe Kanesda" - "Nest of the Raven."
Hey kids: Is Silent Hill a special place to you? If you were naming this area, what would you call it?
Ad blocker interference detected!
Wikia is a free-to-use site that makes money from advertising. We have a modified experience for viewers using ad blockers

Wikia is not accessible if you've made further modifications. Remove the custom ad blocker rule(s) and the page will load as expected.