Description
"The kind of stands they hang IVs from in hospital. Has a surprising heft to it."
Location(s)
Alchemilla Hospital
Cedar Grove Sanitarium
Appearances
Silent Hill: Origins
The Drip Stand is one of the various breakable weapons found in Silent Hill: Origins. Because of its length, they enable long-range attacks, but are rather frail and their durability is minimal. They are commonly found in hospital environments such as Alchemilla Hospital and Cedar Grove Sanitarium.
A similar variation, the light stand, can be found at Riverside Motel.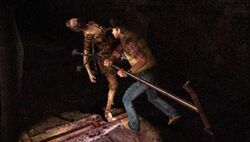 Ad blocker interference detected!
Wikia is a free-to-use site that makes money from advertising. We have a modified experience for viewers using ad blockers

Wikia is not accessible if you've made further modifications. Remove the custom ad blocker rule(s) and the page will load as expected.