Description
"Key to operate the drawbridge. Found in the church."
Purpose
Lowers drawbridge to access Central Silent Hill
Location
Balkan Church, Old Silent Hill
The Drawbridge Key is an item Harry Mason picks up in Silent Hill. It is found on the altar of the Balkan Church, located in the southeastern part of Old Silent Hill. It is picked up along with the Flauros after a short encounter with Dahlia Gillespie. The key is required in the Orridge Bridge Control Room to lower the drawbridge leading to Central Silent Hill, allowing Harry to follow Dahlia's commands by visiting Alchemilla Hospital.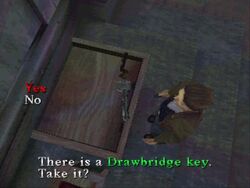 Ad blocker interference detected!
Wikia is a free-to-use site that makes money from advertising. We have a modified experience for viewers using ad blockers

Wikia is not accessible if you've made further modifications. Remove the custom ad blocker rule(s) and the page will load as expected.