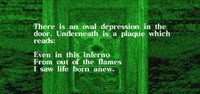 Aside from the memos found in Alchemilla Hospital in Silent Hill: Origins, there are two messages found in the form of door plaques. The first one can be found in the Otherworld version of the hospital, in the first floor corridor on the door with an oval depression:
Transcript
"Even in this inferno

From out of the flames

I saw life born anew."
The second plaque can also be found in the first floor corridor, on the door with a death mask:
"Even the blind have need of eyes

If they wish to gaze at the future."
Travis can find another plaque in the Otherworld Artaud Theater.