A key attached to a small doll
Description
"Key with a girl's doll keychain attached. "303" is engraved on it"
Location
Room 302 bedroom, South Ashfield Heights
Appearances
Silent Hill 4: The Room
The Doll Key is a key that is obtained in Silent Hill 4: The Room. Henry Townshend must obtain it in order to unlock Room 303 of South Ashfield Heights during his first visit to the Apartment World. Room 303 belongs to his neighbor Eileen Galvin, and Henry seeks to enter her apartment believing she is in danger.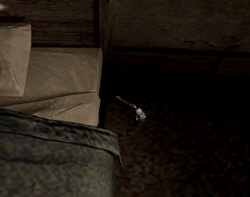 The key, however, is not located with the other apartment keys held by the superintendent, and Henry must instead follow a clue from a diary indicating that the key is hidden in the bedroom of his apartment to the right of the bed. The diary page that triggers the key to appear can be found inside Room 102, inside the kitchen refrigerator. It can be hard to find if the player doesn't check every fridge, something that will likely happen, since most fridges in the game can't be opened.
The key is named for the small doll attached, which is identical to the Shabby Doll, another item obtainable in the Apartment World.
Ad blocker interference detected!
Wikia is a free-to-use site that makes money from advertising. We have a modified experience for viewers using ad blockers

Wikia is not accessible if you've made further modifications. Remove the custom ad blocker rule(s) and the page will load as expected.