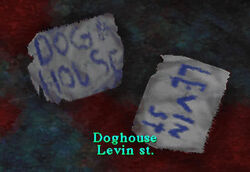 The Dog House Note is a memo Harry Mason finds during his attempt to locate his daughter, Cheryl Mason, in Silent Hill. Harry can find the memo on the ground at the east side of the demolished west end of Matheson Street.
As the name suggests, the note refers to a dog house located on Levin Street. It is here that Harry can find the Levin St. house key that is needed to continue to Midwich Elementary School.
Transcript
Doghouse
Levin St.
Ad blocker interference detected!
Wikia is a free-to-use site that makes money from advertising. We have a modified experience for viewers using ad blockers

Wikia is not accessible if you've made further modifications. Remove the custom ad blocker rule(s) and the page will load as expected.