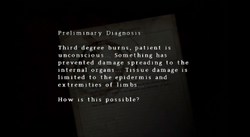 A Diagnosis note is a memo in Silent Hill: Origins. Travis Grady can find it in room 205 on the second floor of Alchemilla Hospital. The note is a diagnosis performed by a doctor on a patient of the hospital. This patient is almost indisputably Alessa Gillespie, as it mentions her horrendous burns and the uncanny prevention of injury spreading to her internal organs, which should've been inevitable.
Transcript
"Preliminary Diagnosis:
Third-degree burns, patient is
unconscious... Something has
prevented damage spreading to the
internal organs... Tissue damage is
limited to the epidermis and
extremities of limbs...
How is this possible?"
Ad blocker interference detected!
Wikia is a free-to-use site that makes money from advertising. We have a modified experience for viewers using ad blockers

Wikia is not accessible if you've made further modifications. Remove the custom ad blocker rule(s) and the page will load as expected.