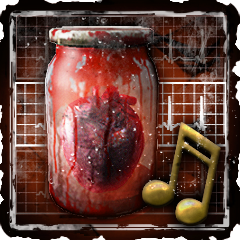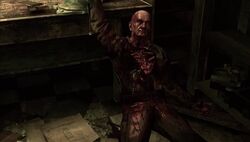 Dead Man's Hand is a sidequest in Silent Hill: Downpour. The quest can be started after examining a dead inmate in a house on the southeastern side of Rice Street in Pleasant River.
Quest solution
It consists of a pretty straightforward fetch quest. The dead inmate has had his heart ripped out of his chest. The player must descend into the Sewer Labyrinth, which can be accessed by using a ladder close to the corpse, in order to retrieve the heart so it can be returned to its owner. There are two possible locations of the heart, depending on the difficulty. On Easy, the heart can be found by using the forensic flashlight and following the tracks. However, on Normal and Hard, the user will have to take a different route; it can be quite hard to find, so below is a list of steps to take in order to retrieve the heart:
From the ladder, go straight towards the end of the path.
Turn left and go through the gate.
Turn right.
Go past the intersection ahead.
At the second intersection, turn right.
Continue until reaching a gate; open it and obtain the heart.
After obtaining the heart, a large number of Screamers and Weeping Bats will spawn. The player will have to navigate back out of the labyrinth and return the heart to its owner.
Trivia
Gallery