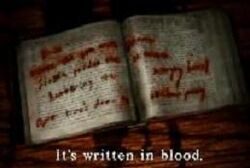 Darkness that brings the choking heat is a memo written in blood that Harry Mason finds in the reception area of the Midwich Elementary School. It is one of the necessary clues (along with the "alchemy laboratory" and "a place with songs and sound" memos) needed to solve the Clock Tower Puzzle. The memo refers to the boiler in the basement, which Harry must turn on to gain entry into the Otherworld version of the school.
Transcript
"5:00

Darkness that brings

the choking heat


Flames render the silence,

awakening the hungry beast.

Open time's door to beckon prey"
Ad blocker interference detected!
Wikia is a free-to-use site that makes money from advertising. We have a modified experience for viewers using ad blockers

Wikia is not accessible if you've made further modifications. Remove the custom ad blocker rule(s) and the page will load as expected.