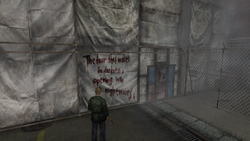 The Darkness Message can be found written on a wall next to a locked door at the end of Katz Street in South Vale, which appears in Silent Hill 2.
The door next to the message will be locked if James Sunderland attempts to open it before the Otherworld takes over South Vale, which alludes to the message stating, "the door that wakes in darkness".
Transcript
"The door that wakes in darkness,

opening into nightmares."
Ad blocker interference detected!
Wikia is a free-to-use site that makes money from advertising. We have a modified experience for viewers using ad blockers

Wikia is not accessible if you've made further modifications. Remove the custom ad blocker rule(s) and the page will load as expected.