Crowbar
Talk

2
2,029pages on
this wiki
The crowbar in Homecoming
Description
"This crowbar is heavier and more powerful than the pipe."
Durability
Indestructible (Homecoming)
Medium (Downpour)
Location(s)
Hell Descent
Varies (Downpour)
Appearances
Silent Hill: Homecoming
Silent Hill: Downpour
Silent Hill: Book of Memories
The Crowbar is a weapon found in Silent Hill: Homecoming, Silent Hill: Downpour and Silent Hill: Book of Memories.
Silent Hill: Homecoming
Alex Shepherd finds a crowbar while in the Hell Descent chapter of the game. It is the successor of the steel pipe that Alex carries in the inventory, and can be used to pry open certain objects, much in the same fashion as the pipe, but faster. It has similar range to the pipe, but deals more damage. It is relatively slow to swing, making a knife preferable. Later in the game, the crowbar is replaced with the pipe again, after Alex is taken prisoner by the Order, and is the first weapon found in the Underground area. The crowbar is an extremely helpful weapon against the Scarlet boss.
Silent Hill: Downpour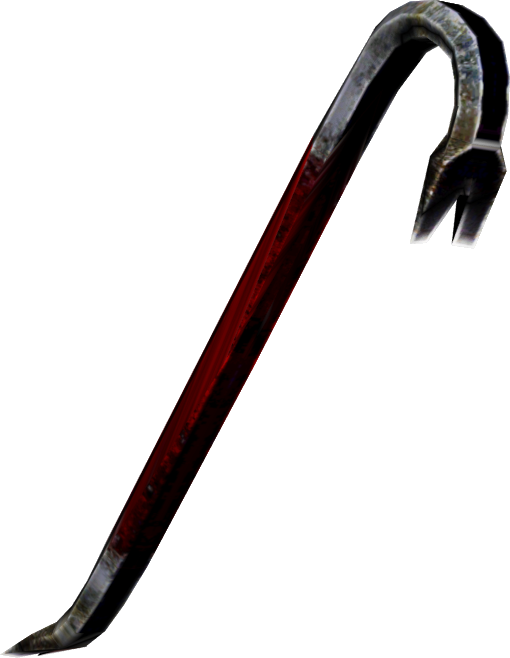 Murphy Pendleton can find many crowbars in Silent Hill: Downpour but he first finds one at a petrol station at the start of the game. Like all weapons in the game (save fire-arms), the crowbar is degradable. The game's producers have said that, overall, the crowbar is one of the stronger and more reliable weapons that can be found. The crowbar is also instrumental in the game's progress, as it is used to bust open locks which allow Murphy to progress further. It resembles a typical crowbar with forked ends.
Trivia