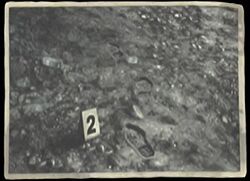 This Crime Scene Photo is an evidence photograph found in Hillside in Silent Hill: Downpour. It is located on the floor in the side yard next to the Hillside Police Station (just past the two barriers and near some oil drums) and is of presumably Charlie Pendleton's footprints.
Transcript
(Crime scene photo with marker #2)
Ad blocker interference detected!
Wikia is a free-to-use site that makes money from advertising. We have a modified experience for viewers using ad blockers

Wikia is not accessible if you've made further modifications. Remove the custom ad blocker rule(s) and the page will load as expected.