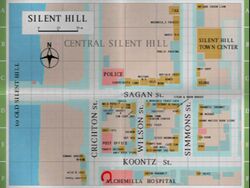 Critchton St. is a road in western part of Central Silent Hill section of Silent Hill, seen in Silent Hill: Origins, Silent Hill and in Silent Hill: Homecoming. Crichton Street connects Sagan Street, Koontz Street, Midway Avenue, Cileo Avenue and Riverside Drive.
Silent Hill: Origins
Travis wakes up on the bench on Crichton Street. He remembers what happened last night and mysterious girl that he saved from the fire. He thinks that he should visit the Alchemilla Hospital to check if she in there. Later, Travis once again visits Crichton St. when he is going to the [into the General Store to overpass the obstacle.