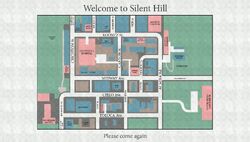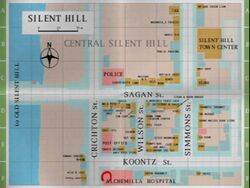 Critchton St. is a road in western part of Central Silent Hill section of Silent Hill, seen in Silent Hill: Origins, Silent Hill and in Silent Hill: Homecoming. Crichton Street connects Sagan Street, Koontz Street, Midway Avenue, Cileo Avenue and Riverside Drive.
Silent Hill: Origins
After Travis passes out in front of the Gillespie House, he wakes up on the bench on Crichton Street. He remembers what happened last night and mysterious girl that he saved from the fire. He thinks that he should visit the Alchemilla Hospital to check if she in there. Later, Travis once again visits Crichton St. when he is going to Riverside Motel. However due to large hole in the street he is forced to enter into the General Store to overpass the obstacle.
Ad blocker interference detected!
Wikia is a free-to-use site that makes money from advertising. We have a modified experience for viewers using ad blockers

Wikia is not accessible if you've made further modifications. Remove the custom ad blocker rule(s) and the page will load as expected.