Creeper
Talk

1
2,071pages on
this wiki
The Creeper from Silent Hill 2
Other appearances
Silent Hill 2
Silent Hill film
Silent Hill: The Arcade
Silent Hill: The Escape
Attack method(s)
Bites the player
The Creeper is a giant insect that moves with great speed and reacts strongly to light. It appears frequently in Silent Hill, Silent Hill 2 and Silent Hill: The Arcade. In Silent Hill 2, it is slightly smaller and has a stronger green tinge to its body.
A similar creature appears in Silent Hill: Homecoming, named Swarm.
Character
In Silent Hill and Silent Hill 2 they attack Harry Mason and James Sunderland by nipping at their ankles. Their small size and flat bodies make them difficult targets, however, both protagonists can stomp on the creatures in order to kill them. As such, they are fairly easy to dispose of, but they are still quite annoying opponents.
There is also a scene in Silent Hill 2 regarding a small room below the Silent Hill Historical Society after picking up a key from the ground. James's flashlight will go out, and the door to the room will lock. After replacing the dead battery in the flashlight with a new battery, Creepers begin to swarm the room. Killing them is pointless as they continuously respawn; James must guess the combination next to the door and escape.
In Silent Hill: The Arcade, the boss monster Mama spits out Creepers as an attack. They do not do much damage, but can swarm the player and block their view.
Symbolism
According to the Book of Lost Memories, the Creeper in Silent Hill represents Alessa Gillespie's dislike of insects, with the exception of butterflies.
In Silent Hill 2, the Book of Lost Memories states that it can be assumed that the Creepers are derived mostly from the power of Silent Hill itself.
Aside from this, they could also represent the protagonists; small, like insects, compared to the immense power and fear instilled by the town and its many dangerous creatures.
Film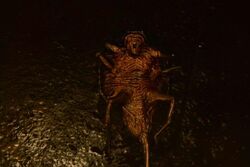 Creepers also appear in the 2006 film Silent Hill, and are created by the Otherworld, including appearing from the decay wrought by the hands of the Janitor in the elementary school bathroom.
The Creepers have tiny human faces underneath their heads, rather than the mandibles they have in the game. They appear in very large swarms, which can completely cover and consume a person within a short time. These Creepers likely represent the local religious cult, as they swarm over and destroy anything different than themselves and are spawned by corruption, much like the cultists.
According to director Christophe Gans, the Creepers are the memories of people killed by Alessa, who are trapped in monstrous bodies to punish them for their sins. In a scene in which Pyramid Head stabs through a door at Rose Da Silva and Cybil Bennett, the Creepers represent sperm entering the vagina of a rape victim, a clear reference to Alessa's rape at the hands of the janitor.
Gallery
For a complete list of images of the Creeper, please visit the Creeper images category.