The Creeper from Silent Hill 2
Other appearances
Silent Hill 2
Silent Hill film
Silent Hill: The Arcade
The Creeper is a giant insect that moves with great speed and reacts strongly to light. It appears frequently in Silent Hill, Silent Hill 2 and Silent Hill: The Arcade. It also appeared in the Silent Hill film.
A similar hostile creature appears in Silent Hill: Homecoming, named Swarm, as well as other small insects. However, they are not related to Creepers.
Appearance
In Silent Hill, the Creeper appears as a large, cockroach-like insect with three pairs of legs and two long "antenna" from the back.
In Silent Hill 2, the Creeper is slightly smaller with a stronger green tinge to its body and the two antenna-like tails on its back are absent.
In the film, the Creeper has a horseshoe crab-like appearance with what resembles a human face underneath its head.
Character
In Silent Hill and Silent Hill 2, they attack Harry Mason, James Sunderland and Maria by nipping at their ankles. Their small size and flat bodies make them difficult targets, however, both protagonists can stomp on the creatures in order to kill them. As such, they are fairly easy to dispose of, but they are still quite annoying opponents.
There is also a scene in Silent Hill 2 regarding a small room below the Silent Hill Historical Society after picking up a key from the ground. James's flashlight will go out, and the door to the room will lock. After replacing the dead battery in the flashlight with a new battery, Creepers begin to swarm the room. Killing them is pointless as they continuously respawn; James must guess the combination next to the door and escape.
In Silent Hill: The Arcade, Creepers are plentiful. They do not do much damage, but can swarm the player and block their view, requiring them to be shot off the screen. When Pyramid Head appears, he is surrounded by a swarm of hundreds of Creepers. The boss monster Mama spits out Creepers as an attack.
Symbolism
According to the Book of Lost Memories, the Creeper in Silent Hill represents Alessa Gillespie's dislike of insects, with the exception of butterflies. It is possible that there were plenty of insects lurking in the basement of Alchemilla Hospital. In her diary, Lisa Garland states that she has been seeing insects, a possible drug (PTV) withdrawal symptom. It is possible Lisa began to see phantom Creepers.
In Silent Hill 2, the Book of Lost Memories states that it can be assumed that the Creepers are derived mostly from the power of Silent Hill itself, almost as if they are a lingering residue leftover from the events of the first game. They may be elements of James' and Maria's psyches. They could also represent Mary Shepherd-Sunderland and her disease, which may be why both James and Maria encounter these monsters.
Aside from this, they could also represent the protagonists; small, like insects, compared to the immense power and fear instilled by the town and its many dangerous creatures.
Silent Hill film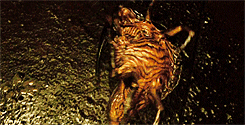 Creeper appears in the film. They are created by the Otherworld, including appearing from the decay wrought by the hands of the janitor Colin in Midwich Elementary School's bathroom. Hundreds of them are seen swarming the school, following Red Pyramid, devouring the miners and their clothing. They begin to chase Rose Da Silva and Cybil Bennett, swarming them in a storeroom. They disintegrate when the Otherworld lifts.
The Creepers have tiny human faces underneath their heads, rather than the mandibles they have in the game. They appear in very large swarms, which can completely cover and consume a person within a short time. These Creepers likely represent the local religious cult, as they swarm over and destroy anything different than themselves and are spawned by corruption, much like the cultists.
According to director Christophe Gans, the Creepers are the memories of people killed by Alessa Gillespie, who are trapped in monstrous insect bodies to punish them for their sins. In a scene in which Red Pyramid stabs through a door at Rose and Cybil, the Creepers represent sperm entering the vagina of a rape victim, a clear reference to Alessa's rape at the hands of the janitor.
Gallery
Silent Hill
Silent Hill 2
Silent Hill: The Arcade
Silent Hill film
Ad blocker interference detected!
Wikia is a free-to-use site that makes money from advertising. We have a modified experience for viewers using ad blockers

Wikia is not accessible if you've made further modifications. Remove the custom ad blocker rule(s) and the page will load as expected.