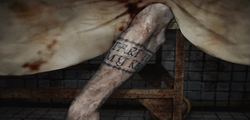 The Corpse Tattoo is one of the memos that Heather Mason finds in Silent Hill 3. It is found on the arm of the corpse in Examination Room 3 on the second floor of Brookhaven Hospital. The memo holds a vital clue on how to open the Brookhaven Briefcase found on the same floor.
Ironically and tragically, Heather can find another tattoo on the body's leg that says, "Margaret, let's swear our love until death do us part."
Transcript
The start time is my key.
Ad blocker interference detected!
Wikia is a free-to-use site that makes money from advertising. We have a modified experience for viewers using ad blockers

Wikia is not accessible if you've made further modifications. Remove the custom ad blocker rule(s) and the page will load as expected.