Description
"This key was in the barbecued dog at the restaurant. Yuck."
Purpose
Unlocks "Cafe Tirn Aill"
Location
Inside the cooked dog in the restaurant, 3F Alternate Central Square Shopping Center
Appearances
Silent Hill 3
The Cooked Key is one of the stranger keys that Heather Mason picks up in Silent Hill 3. During her journey through the Otherworld Central Square Shopping Center, Heather comes across a barbecued dog prepared in the third floor restaurant, apparently laid out for a single diner. It resembles the Groaners from Silent Hill. According to the Book of Lost Memories, the dog swallowed the key and was cooked alive.
After commenting on the dish with disgust, Heather picks out the small key from inside the dog, seemingly barbecued with it. The key opens the door to "Cafe Tirn Aill," located on the second floor of the Otherworld Shopping Center.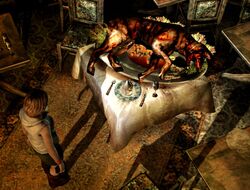 Ad blocker interference detected!
Wikia is a free-to-use site that makes money from advertising. We have a modified experience for viewers using ad blockers

Wikia is not accessible if you've made further modifications. Remove the custom ad blocker rule(s) and the page will load as expected.