Heather running on the outer scaffolding
Appearances
Silent Hill 3
"
It looks like somebody was living here.
—Heather in the Construction Site

"
The Construction Site is an area briefly explored in Silent Hill 3. Heather Mason enters the construction site immediately after exiting the Underpass. Heather must pass through the building and the adjacent Hilltop Center in order to get to her home in Daisy Villa Apartments. The building is apparently in the middle of constructive work; however, the only signs of this are the loose boards, scattered tools, and the outer scaffolding.
Design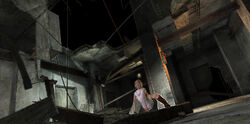 The building consists of five floors, all connected through a single stairwell; however, it is made clear that some floors are restricted due to building damage and active construction. Like most other places in the Fog World, most of the doors are jammed and inaccessible. The only floors Heather actually explores are the fifth and the fourth. The fourth floor isn't reachable through the main stairwell, but Heather manages to drop down to it through a large hole on the floor above.
It is unknown what the building is meant for. Upon examination of various objects, Heather does conclude that people must have been living there before. After accessing the scaffolding outside of the fourth floor, Heather is able to enter Hilltop Center through an open window. The building's proximity to Hilltop Center may suggest it was meant for a similar purpose.
Trivia
There is no map provided for the construction site.
In a bathroom, footsteps can be heard.
One of the game's secret items, the silencer, can be found. It is located behind a newly-plastered wall on the fifth floor. After breaking the wall using a melee weapon, a corpse can be found within the wall and the silencer can be picked up from the floor. The hidden corpse is most likely a reference to another Konami game, Metal Gear Solid.
If Heather returns to the construction site, an Insane Cancer will appear out of nowhere.
Gallery