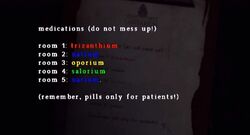 The Clipboard is a memo found by Travis Grady in Silent Hill: Origins. It is located in the male seclusion area of the Otherworld version of Cedar Grove Sanitarium and is necessary to solve the Doll Puzzle.
Transcript
"medications (do not mess up!)


room 1: trizanthium

room 2: natium

room 3: oporium

room 4: salorium

room 5: natium


(remember, pills only for patients!)"
Ad blocker interference detected!
Wikia is a free-to-use site that makes money from advertising. We have a modified experience for viewers using ad blockers

Wikia is not accessible if you've made further modifications. Remove the custom ad blocker rule(s) and the page will load as expected.