Claudia Wolf
Talk

27
2,071pages on
this wiki
Claudia Wolf from Silent Hill 3
Cause of death
Birthing of God
Hair color
Platinum blonde
Occupation
Priestess of the Order
Appearance(s)
Silent Hill 3
Voice actor
Donna Burke
Laura Bailey (Silent Hill HD Collection)
This article is for Claudia's role in the game. For her role in the film, see Claudia Wolf (film).
"
They've come to witness the Beginning. The rebirth of Paradise, despoiled by mankind.

—Claudia to Heather, regarding the monsters.

"
Claudia Wolf is a character from Silent Hill 3. Although she is the primary antagonist, she is not considered to have immoral motives, but rather to be a misled religious fanatic. Claudia's voice actor, Donna Burke, previously voiced Angela Orosco from Silent Hill 2.
Background
"
You hated your father, didn't you? I saw the way he hit you... kicked you... and made you cry. The memory of his cruelty is forever burned into my mind.

—Vincent, discussing Claudia's childhood.

"
Claudia is a mysterious woman who appears frequently in Silent Hill 3, clad in black. While she is one of the key antagonists of the game, not much is revealed of her past. It is clear that she is a firm believer in the doctrine of the Order and is trying to hasten the rebirth of God in order to create Paradise. Claudia is driven by the belief that a God born of pain and suffering is more likely to create a merciful Paradise than a God that cannot comprehend empathy.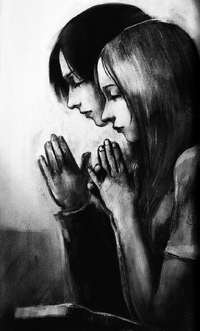 The only clues concerning Claudia's past arise during a cutscene, where Vincent Smith indicates that Claudia was abused by her father, Leonard Wolf. Leonard had raised Claudia as a strong believer in the cult's faith, and it is implied that he inflicted physical punishment upon her for any irreligious behavior she had done. This, in turn, resulted in Claudia bearing a strong hatred for her father. It can be speculated that her desire to create Paradise is the product of an abusive childhood.
As a child, Claudia was raised alongside Alessa Gillespie, Heather Mason's original incarnation. As such, she sees Alessa as a sister and refers to Heather by her past name. Claudia's mission is to succeed where Dahlia Gillespie failed in Silent Hill, impregnating Heather with God and hastening its "birth". Claudia also holds a grudge against Harry Mason, the main protagonist from the first game who averted God's birth the first time and kept "Alessa" hidden away.
Silent Hill 3
Claudia hires a private investigator named Douglas Cartland to locate Heather, who went missing after Harry escaped Silent Hill 17 years prior. Claudia and Douglas go to the Central Square Shopping Center and Douglas approaches Heather, telling her that Claudia is waiting for her. Heather refuses the invitation, and flees from Douglas.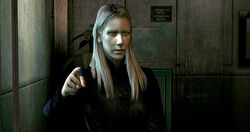 However, while exploring the mall, Heather eventually encounters Claudia inside the employee's area. Claudia tells Heather that her talents are required, and to remember her past. Heather then comes down with a serious migraine as Claudia departs.
As Heather is drawn deeper into the Otherworld and tries to find her way home, Claudia dispatches the Missionary to murder Harry in their apartment and leave his corpse for Heather to find. Claudia then summons Heather to Silent Hill, who brings Douglas along with her.
At Jacks Inn, Claudia and Vincent have a conversation about the cult, as well as Leonard Wolf's abusiveness to Claudia. When Heather returns to the motel, Vincent tells Heather that Claudia is at the church across Toluca Lake.
In Lakeside Amusement Park, Claudia and Douglas are arguing; Douglas feels betrayed by Claudia, saying that while Claudia said that Heather was kidnapped and brainwashed, he feels that Heather is actually a normal girl. Claudia then explains that they need Heather back into the cult because God needs to be born to usher in a new "Paradise" -- an eternal world filled with no pain, hunger, sickness, old age, greed or war. Douglas then points out that a place without any worries or negative implications is not really a paradise, but rather, a stagnant world where nothing happens of any real value. Douglas sighs, saying that type of world would be pointless and boring and in response, Claudia tells Douglas that she pities him. Douglas then pulls out his gun and points it at her, and what happens afterwards remains a mystery.
Heather encounters Claudia inside the chapel and tells her that Alessa likes the world just the way it is (something she knows due to Alessa's waking personality within her). Claudia has a strong will and explains that there is too much suffering in the world and the God of her cult will change all that, although Heather explains that suffering is a fact of life and that one just has to face that reality. Heather suddenly feels pain as the "God" is close to being ready for birth and Claudia leaves.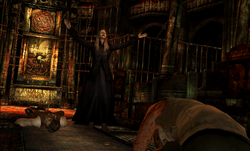 At the final confrontation, Claudia plays on Heather's hate and rage over her father's murder to nourish "God". She argues with Vincent before finally stabbing him in the back with a dagger. Claudia explains to Heather her reasons for her doings and how she doesn't expect to be saved due to the sins she has committed. Afterwards, Claudia ends Vincent's life with another stab using her dagger. Just as Heather succumbs and is about to give "birth", she swallows the Aglaophotis she has been carrying (hidden inside a necklace Harry gave her) and vomits the demonic, worm-like fetus back up. Horrified, Claudia immediately shoves Heather aside and swallows the fetus herself. Because Claudia was not meant to birth God, she endures an excruciating death as she staggers into a trapdoor in the floor. Valtiel pulls Claudia's body into the basement where the final boss awaits. The cutscene before the God battle shows that all that's left of Claudia is her dress.
Main article: Claudia Wolf (film)
Claudia Wolf also appears in the 2012 film, Silent Hill: Revelation, played by Carrie-Anne Moss. Like her game counterpart, the film's version of Claudia is a fanatical priestess of the Order. However, no mention is made of an abusive childhood, a past friendship with Alessa, nor of Claudia wanting to create a world free of suffering. In the film, she is shown to be the mother of Vincent Cooper, Revelation's version of Vincent Smith.
Personality
"
Alessa, my dearest... For the pain that I've caused you... I deserve no mercy. Even if it was to save mankind, it was too deep a sin.

—Claudia to Heather

"
Much like Dahlia Gillespie from Silent Hill, Claudia speaks in religious riddles and holds an overriding belief in God. However, while Dahlia's motives were decidedly malevolent, Claudia truly believes in what she is doing. While her faith is unshakable, Claudia realizes that her methods are questionable, and even states that she does not expect to take part in Paradise due to her role in Harry's death. Claudia's intention is to remake the present world into Paradise by reviving God. Because of her experiences during her childhood, she perceives the world as being full of suffering, and in order to "save everyone", she attempts to create paradise. She believes that for everyone to be saved, some sacrifices like Harry and Vincent are unavoidable.
Because of her passionate need to believe, Claudia also has a temper, especially when others seem skeptical or opposed to her mission. She has several moments where she loses composure, particularly with Father Vincent, who openly mocks her faith. Eventually, Vincent's words are met with violent consequences when Claudia stabs and kills him.
It is clear in the game that Claudia does have a heart, but one that only comes after faith. She was very close with Alessa Gillespie since youth, and is conspicuously excited when Heather feigns to genuinely be her. She even kept a birthday card from her youth that Alessa gave her, and according to Heather, the two girls spent much time together as children drawing and playing cards. The protagonist will also say Claudia would often cry if she lost card games to Alessa. Later in life she maintained her friendly ardor towards Alessa, making it very clear that she yearned for her return. Upon reading Claudia's diary, the player can also discover that Claudia enjoys reading religious texts but would even admit to certain things hastening God's arrival being "much too cruel."
Appearance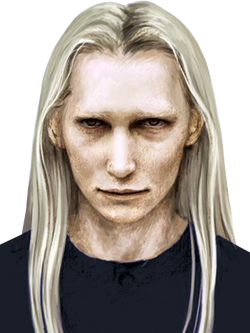 While Team Silent considered many different character designs for Claudia, they ultimately decided on a simpler, more subtle character than they initially intended. Claudia was modeled to look like Julianne Moore. Team Silent purposefully neglected to give her eyebrows to make it hard to interpret her facial expressions, believing it would give her an unsettling appearance. Claudia wears simple, plain black robes and does not wear shoes. It seems that being barefoot is a tradition in the Order's priestesses as Dahlia Gillespie did not wear shoes either and was barefoot in game.
Special powers
In the library, Vincent mentions that Claudia and Heather both have "special powers". The Book of Lost Memories states that the reason Heather encounters the monsters in the shopping mall is because Claudia's presence is nearby, meaning she has control over the Otherworld and Fog World. She can also control the monsters to some extent, as she commanded the Missionary to kill Harry.
The scene where Douglas points his gun at Claudia ends on a cliffhanger. When Heather reunites with Douglas, his leg is suddenly broken and he never states the cause of it. Because Douglas is in the same area and there are no monsters present in either cutscene, it's possible Claudia used telekinesis to break his leg.
Vincent has also stated that she has the "Sight." Whereas Alessa was stated to have precognition, it is likely that Claudia had the power of retrocognition, seeing the past. This would explain why she had detailed knowledge of the events of the first game.
It is unknown where Claudia received her special powers. It is possible that, like Alessa, Claudia had been born with unexplained special powers. It is also possible that playing with Alessa frequently throughout her childhood caused powers to manifest within herself. Lastly, the powers could also be a result of her strong faith within the Order given to her by the spiritual power of the land. It is seen that other members of the Order both revere and fear her due to her powers.
Creator's comment
| | | |
| --- | --- | --- |
| " | Her name comes from an Italian actress from the 1960s, Claudia Cardinale. Originally we had named her Christie, but it was pointed out that this name is too "cute" and so we decided to change it. | " |
Quotes
"Don't you know? Your power is needed."
"Remember me, and your true self as well, also that which you must become. The one who will lead us to Paradise with bloodstained hands."
"There is another reason: to fill your heart with hatred. It must be this way. One day you will understand why."
"You will birth a god and build an eternal paradise."
"So, what will you do? I'll be waiting, where all begins. In the town of Silent Hill."
"Those who mock God will never receive salvation. You'll go to Hell, Vincent... You'll never feel the joy of God's everlasting paradise!"
"You don't understand. None of you do."
"You're going to kill me? Is it really so easy for you?"
"Alessa...? Oh, how I've missed you!"
"But you said it yourself. The world must first be cleansed with fire."
"Alessa, don't you want happiness? Have you become blind to all the hopeless suffering in the world? We need... we all need God's salvation!"
"I wish only for the salvation of mankind. But for that to happen, the world must first be remade. And for that we need God!"
"You despise me, don't you?"
"When did you stop believing in God? God lives! Just look around you!"
"You mock God!? Traitor. You will go to Hell!"
"You'll go to Hell!"
"You know that only God can save us."
"I don't want to be a mere bystander in this world. I can't do anything now, though, and that's what's hard."
"Alessa, I'm saddened that you didn't agree to this on your own. But I thank you for nurturing God with all the hate in your heart. It's time for mankind to be released from the shackles of sin that bind them!"
"Happy people can be so cruel."
"Is it so hard to believe that sympathy could be born from pain and suffering? Why do you reject God's mercy? Why do you cling to this corrupt world? You know that only God can save us."
"Oh, that's just a piece of junk. What do you think you can do with that? Do you really think it can kill God? I'm sorry to see you fell for my father's foolishness. You're pathetic."
"Even as a child I saw the coming of this day. I knew that I would be a witness to it, Judgment Day!"
"But God loves even you..."
"Alessa, you cannot kill God! I will... I will birth God! If you can't do it Alessa, I will!"
Trivia
During Silent Hill 4: The Room, Walter Sullivan in the Hospital World removes the womb of a corpse that has the same character design as Claudia, much like the Angela Orosco corpse in Silent Hill 3. It is possible Team Silent recycled Claudia's character model structure just to build the corpse, similar to how they recycled Angela's model to build the corpse in Silent Hill 3.
In the Book of Lost Memories, Claudia is referred as "The High Priestess", the second of the Major Arcanas in a Tarot Deck, related to her high position on the Order.
Claudia shares the name of the plant "White Claudia" from Silent Hill.
Donna Burke voiced Angela Orosco in Silent Hill 2 and Claudia Wolf in Silent Hill 3, and that both of them were treated badly by their fathers. Also, in both games, a monster version of their fathers is fought by the protagonist.
In the Silent Hill HD Collection, Claudia has a small script change in her first meeting with Heather. Instead of saying "despoiled by mankind", she will say "unspoiled by mankind".
After Claudia swallows the God fetus, its form takes on similarities to Alessa. This is likely due to Claudia's belief that Alessa was the savior of mankind. The face looks almost identical to Alessa's, and the lower half may represent Alessa's immolation, and how Claudia may have once thought her dead. If Claudia had thought Alessa was dead, and then found out she was alive, Claudia may have thought that God's presence in Alessa had reincarnated her or made her unkillable.
Gallery