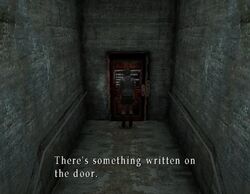 In Silent Hill 3, Heather Mason can find an engraving on the Church Door that leads to the chapel. The door is at the end of the tunnel that connects the church to Lakeside Amusement Park.
Transcript
"This door is the gate which leads to
the Road to Paradise.
Embrace the bosom of the
Admit your sins and be forgiven.
Eternal tranquility can be yours."
Ad blocker interference detected!
Wikia is a free-to-use site that makes money from advertising. We have a modified experience for viewers using ad blockers

Wikia is not accessible if you've made further modifications. Remove the custom ad blocker rule(s) and the page will load as expected.