Christabella
Talk

0
2,029pages on
this wiki
Christabella from the Silent Hill film
Cause of death
Mutilation by barbed wire
Occupation
Midwich Elementary School Headmistress (in flashbacks)
The Brethren leader
Appearance(s)
Silent Hill film
This article is about the film character. For the antagonist of the comics, see Christabella LaRoache.
"
Burn her! Burn the witch!

—Christabella to her congregation

"
Christabella is the main antagonist of the Silent Hill film and the leader of a fanatical religious cult based in the town of Silent Hill, West Virginia. She is portrayed by Alice Krige.
She is the sister of Claudia Wolf, and presumably also the daughter of Leonard Wolf.
Background
Christabella is manipulative and believes in finding and burning those who are considered to be witches. Before she and her religious group were trapped in the Fog World, Christabella also worked as the headmistress at Midwich Elementary School.
Christabella had Alessa Gillespie condemned as a witch. Alessa was bullied and abused daily, while the members of the cult not only allowed it, but encouraged it in their children. When Alessa was nine years old, Christabella convinced Dahlia that she needed to be "purified", calling her "filth" and saying her innocence must be restored. Christabella then had Alessa laid over a bed of burning coals to be burned alive as a witch. When one of the chains holding Alessa in place had broken, Christabella and her followers fled from the sacrificial chamber. All of the members of the cult, including Christabella, were then pulled into the Otherworld after Alessa split her soul and started taking revenge.
Silent Hill
Rose Da Silva meets Christabella after she and Cybil Bennett flee to the local church to hide from the coming Darkness. Christabella becomes agitated when Cybil fires a shot in the church to stop the cult members from attacking Rose, declaring that the church "is a sanctuary" and casting an ugly look at Cybil and Rose. She then questions the two women on how they came to be in Silent Hill, and agrees to lead them to the local hospital, where she says a "demon" lies in wait. When Christabella discovers that Rose's adoptive daughter, Sharon, is identical to Alessa, she has her followers attempt to kidnap Rose and Cybil. Rose escapes, but Christabella orders her men to beat Cybil as she lays on the ground bleeding.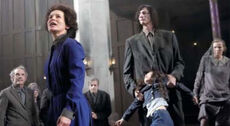 Christabella then goes to Dahlia's apartment where she finds Sharon and kidnaps her. At the church, Christabella has Cybil burned alive as a witch, and attempts to do the same to Sharon when Rose arrives. After Rose begins to tell the cult members the "truth" that Dark Alessa asked of her to do, Christabella stabs Rose with a dagger, which causes Alessa's dark essence to spill out of her and to overtake the church. Alessa and Dark Alessa then rise into the church with mounds of rusted barbed wire, which she then uses to rape and sodomize Christabella; the barbed wire exits Christabella's body through her back, chest and mouth, culminating in her being torn in half. As Christabella dies, Dark Alessa dances in her blood.
Christabella does not appear in the 2012 sequel to Silent Hill, but she is mentioned. According to Revelation, Christabella believed that Alessa could be used to birth god, and so burned her alive with the intention that Alessa would survive and would become a vessel for the god. Instead, Christabella underestimated Alessa's powers, and Alessa split her soul and trapped the cult in an alternate reality.
Though it's never mentioned in the first film, Revelation antagonist Claudia Wolf claims to be the sister of Christabella.
Relation to the Gillespies
According to the canon of the first movie, Christabella is the sister of Dahlia Gillespie, which would also make her the aunt of Alessa. It is unclear whether this relationship is retconned in Revelation, in which Christabella is said to have been the sister of Claudia Wolf and there is no mention of Claudia and Dahlia being sisters.
Trivia
Christabella has many similarities with the Silent Hill 3 character Claudia Wolf, the most notable one is that both want to purify the sin with fire.
Christabella was not in Silent Hill. In the video game, Dahlia was the cult member; here, Dahlia is given to be a loving mother who is sympathetic and Christabella was created to replace Dahlia's role in the Order.
Although Christabella's given age is 67, she looks much younger. The opposite is true for Dahlia in Silent Hill.
Christabella's profile on the official Silent Hill: Revelation website incorrectly shows a picture of Sister Margaret.
Gallery