Celebration Time Gift Shop
Appearances
Silent Hill: Shattered Memories
Celebration Time Gift Shop is a souvenir shop in Toluca Mall that Harry Mason can visit in Silent Hill: Shattered Memories. It is one of two possible paths that Harry can take to continue through the mall, the other being New Looks Hair Salon.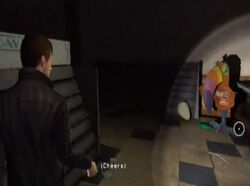 Once inside, Harry finds that the employee door is locked. To find the code, he must solve a puzzle involving the ages on certain greeting cards in the store. A phone message gives him the clue by playing two types of music. Harry must locate the musical cards that play said music and then use the numbers on the cards to form the door code.
Ad blocker interference detected!
Wikia is a free-to-use site that makes money from advertising. We have a modified experience for viewers using ad blockers

Wikia is not accessible if you've made further modifications. Remove the custom ad blocker rule(s) and the page will load as expected.