Ad blocker interference detected!
Wikia is a free-to-use site that makes money from advertising. We have a modified experience for viewers using ad blockers

Wikia is not accessible if you've made further modifications. Remove the custom ad blocker rule(s) and the page will load as expected.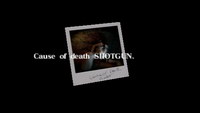 The Cause of Death Photos are items collected by Travis Grady in Silent Hill: Origins. They are five photos found in the Riverside Motel. Each one depicts a deceased person, along with a note detailing the cause of death.
The collection includes:
Cause of death SHOTGUN (found in Riverside Motel, 1F, maintenance)

Cause of death SNAKEBITE (found in Riverside Motel, 2F, Cleopatra suite)

Cause of death OVERDOSE (found in Riverside Motel (Otherworld), 1F, rose suite)

Cause of death STABBING (found in Riverside Motel (Otherworld), 2F, Nero suite)

Cause of death BROKEN HEART (found in Riverside Motel (Otherworld), 1F, Maintenance)
Trivia
Gallery