Cats, though not as prevalent as dogs, are sometimes seen in the Silent Hill series. While there are no enemies whose physical appearances are based on cats, some enemies have other feline attributes. Actual cats have also appeared in the series, though sparsely.
Superstition
While black cats have been associated with doom for almost 10,000 years in most regions, in some cultures, all cats, regardless of coloration, are considered to be ominous creatures. This was most prominent in the Middle Ages, especially during the notorious "Black Death" plague. Cats were believed to be the Devil's pawn, and during this time, were massacred in hopes of lifting the pandemic. During the Renaissance, superstitions of witchcraft inflated, and although black cats were the main culprit, the rest of the species were also associated with witches. This belief went so far that they were occasionally burnt alive or thrown off tall buildings with public acclaim. Western Africa also holds a fear of cats, linking them to witchcraft and general evil, specifically in Ghana.
Ironically, Japan, from which the Silent Hill games were released, are firm believers that cats bring fortune, Maneki Neko being one of the most well-known charms of the country. Russia, parts of Europe, and especially ancient Egypt (even accidentally killing a cat earned the human the death penalty) hold/held cats with utmost respect.
Games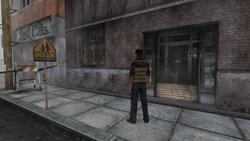 There is a store called Just Cats in Central Silent Hill on Crichton Street, just like in Silent Hill.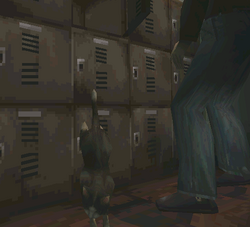 In Midwich Elementary School, Harry Mason opens a locker only to find a cat jumping out and escaping. After the animal leaves the room, its cry is heard and a single monster (Grey Child or Mumbler) is spawned in the hallway, leading the player to assume the monster killed it. This is also evidenced by the Otherworld version of the cat locker, which is ominously blood-spattered.
The Plate of Cat, used in the colored plates puzzle, has a picture of the Cheshire Cat on it.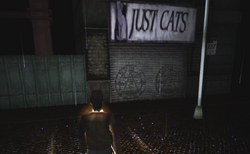 Two stores are called "Just Cats"; one in Silent Hill Town Center and the other on Crichton St. An unused storefront in Central Silent Hill is called "Cat's Eye".

Cheryl Mason's outfit has two kittens on it: a yellow one on her left and a white one on her right. It is possible that these cats on her outfit symbolize the dual nature between Cheryl and Alessa Gillespie.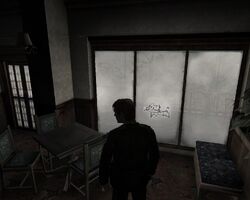 During James Sunderland's second encounter with Laura, she can be seen sitting atop a wall covered in graffiti, presumably added by the child herself. Many cats can be seen in the artwork.
Later in the game, in James's quest to find his wife, Mary, he visits Lakeview Hotel's Lake Shore Restaurant. After a startling surprise from Laura, they start to talk about his wife. During the discussion, Laura draws a cat on the window's condensation. James can investigate the doodle, which will prompt him to comment "A cat...?"
Advertisements for Minmo Cat Food can be seen in the subway.[1] Kathy the Kitty is also introduced as one of four mascots of Lakeside Amusement Park.
In South Ashfield Heights, a woman in Room 102 owned a cat and was nearly obsessed with it. Her neighbor in 101, however, was a gun enthusiast who was allergic to cats, so he shot and killed it. Extremely saddened by the loss, she kept its corpse, wrapped in jeans, in her refrigerator. A haunting later in the game is of said corpse, though it only appears as a writhing "mysterious lump of flesh", in Henry Townshend's refrigerator.
In the Four Reminiscences Puzzle, Henry must find a toy cat and place it inside a pet store's cage to move on. The toy itself represents the cat young Walter Sullivan injured in the pet shop. If Henry reads the newspaper about the pet store killing spree that lies in front of the store, he will hear cries of cats and dogs being slaughtered. When examining some pet food, Henry comments that it could feed an "army" of cats.
Sniffer Dogs, despite being dogs, will yowl and screech similar to big cats such as leopards and will also pounce like them. Gum Heads will also yowl, though only when injured.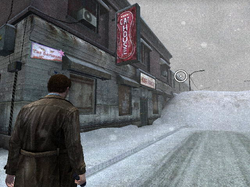 The club Cat House may be seen and traversed through in the game depending on the player's Psych Profile.
Harry Mason passes a poster on the wall asking people to keep a look out for a missing cat, Mr. Milkie. He also passes another picture of a cat with a red "X" drawn across its face.
In Wonderland Burger, the Cheshire Cat makes several appearances in pictures and on the kid's menu in the building. When calling the restaurant's phone number, the player may also get an automated message from the Cheshire Cat himself, depending on their Psych Profile.
Boxes of cat food can also be seen throughout the game.
Gallery