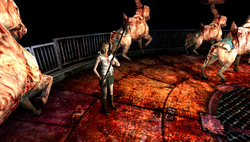 The Carousel Memo is a memo found in Silent Hill 3, pinned to the head of the only horse that does not move on the Happy Carousel of Lakeside Amusement Park. It hints Heather Mason to "kill" all the moving horses of the carousel before time runs out; by doing so, she will face the Memory of Alessa.
Transcript
"When 13 turns count 4,
you will die from their curse.
If you wish to escape,
there is but one way out.
To kill before you are killed:
you will be saved by the 12th death."
Ad blocker interference detected!
Wikia is a free-to-use site that makes money from advertising. We have a modified experience for viewers using ad blockers

Wikia is not accessible if you've made further modifications. Remove the custom ad blocker rule(s) and the page will load as expected.