Silent Hill films
Silent Hill
Carol Spier is a Canadian production designer who has won and been nominated for numerous awards for her work. She most often works with David Cronenberg. Director Christophe Gans credits Spier's talent for the hellish look of the Otherworld in the Silent Hill film. She has also worked on The Fly, Blade II, and Mimic. Most recently, she was the production designer for the latest incarnation of Carrie.
Trivia
Director Christophe Gans stated that he hired Spier after seeing her work on Mimic.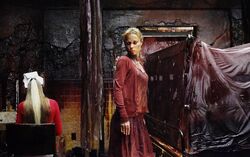 Ad blocker interference detected!
Wikia is a free-to-use site that makes money from advertising. We have a modified experience for viewers using ad blockers

Wikia is not accessible if you've made further modifications. Remove the custom ad blocker rule(s) and the page will load as expected.