The front exterior of Brookhaven Hospital
Location
South Vale (Carroll St.)
Floors
3 (not including basement)
Bosses
Flesh Lips
(
Silent Hill 2
)
Leonard Wolf (
Silent Hill 3
)
Pyramid Head (
The Arcade
)
Tuberculosis (
The Arcade
)
Appearances
Silent Hill 2
Silent Hill 3
Silent Hill: The Arcade
Hunger
Sinner's Reward
Dying Inside
Silent Hill film
This article is for Brookhaven as seen in the games and in the first film. For the second film incarnation, see Brookhaven Asylum.
Brookhaven Hospital is a mental institution located in the South Vale area of Silent Hill. It was originally founded in the 1860s as a Civil War field hospital. It has appeared in Silent Hill 2, Silent Hill 3 and Silent Hill: The Arcade, as well as the Silent Hill film. Nurses are frequent monsters here.
It is unclear if both Brookhaven and Alchemilla Hospital are mental institutions, as their purpose differs from game-to-game. For instance, Alchemilla appears to be a medical hospital in Silent Hill, but a mental facility in Silent Hill: Homecoming.
History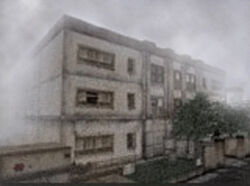 Prior to the 1600s, the area where Silent Hill was eventually established was the home of members of an unnamed Native American tribe that used the land for sacred rituals. At the end of the century, settlers arrived and founded the town; shortly thereafter, they began to rapidly die off. The deaths were attributed to an epidemic, and Brookhaven Hospital was built to treat those affected. It was originally little more than a shack, but it gradually grew.
Eventually, the settlers fled the town, leaving it abandoned for nearly a century, until it was resettled as a penal colony in the early 1800s. Around 1810, another epidemic broke out, and Brookhaven Hospital was rebuilt and reopened.
Silent Hill 2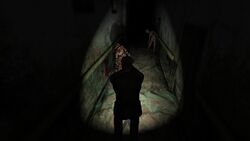 In the first game where exploration of Brookhaven is possible, James Sunderland and Maria enter here in pursuit of Laura. Like many of the buildings James enters in Silent Hill, the general feeling here is one of abandonment, a dilapidated husk void of life and activity.
Brookhaven Hospital undergoes a genuine, though comparatively subtle Otherworld transformation. The walls are covered in tarp, many doors are blocked by either boxes or material. Unfortunately, Maria is killed by Pyramid Head in the basement.
Many strange sounds and noises can be heard. Some examples include glass shattering, a pig-like creature squealing in the basement, and a disembodied heavy breathing being heard in the room where James discovers Maria is missing.
Silent Hill 3
Heather Mason explores Brookhaven when she first enters Silent Hill. She enters the hospital after splitting up with Douglas Cartland in order to find Leonard Wolf, as suggested by Vincent Smith. Meanwhile, a mysterious man named Stanley Coleman is leaving notes for Heather.
The Otherworld of Brookhaven in Silent Hill 3 is much more of an organic change in the environment compared to the dark, derelict version of the second game. The walls pulse with throbbing veins and sometimes even doors and floors are obscured by the almost palpitating environment. Numerous hanging corpses can be seen strung up behind mesh walls and inside cramped cages, much like those witnessed by Harry Mason. Seemingly abandoned hospital beds with corpses covered beneath blankets are also left lying around, and Valtiel lies within view numerous times, usually engaged while suspending the Brookhaven Nurse over drops, or turning a valve. Heather also encounters a similar version of the Bubble Head Nurses found in Silent Hill 2.
The hospital also features an Otherworld version of the 3rd floor storeroom that will trap and kill Heather should she stay inside too long, as black "veins" slither in mass from a bathtub and devour the floor. Heather's reflection will also soon freeze in the mirror, leaving the image of the Memory of Alessa.
Silent Hill: The Arcade
Eric and Tina explore Brookhaven near the beginning of the game, where they chase after Emilie Anderson. There are two bosses: Pyramid Head and Tuberculosis. After Tuberculosis's defeat on the roof, Eric and Tina leave Brookhaven with Emilie and head to the Silent Hill Historical Society to search for her father.
Silent Hill film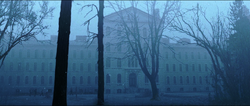 In contrast to the games, the film's version of Brookhaven Hospital shows no signs of being a mental institution, but rather appears to be a regular hospital. Compared to Brookhaven in the video games, it is much larger in size. Rockwood Asylum, an abandoned mental institution, was used for exterior shots to represent Brookhaven Hospital.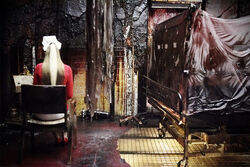 In the Silent Hill film, Alessa Gillespie was taken to Brookhaven Hospital after she was burned alive by the town's religious cult for being born out of wedlock. While in the hospital, Alessa's rage grows out of control and she splits her soul, creating Dark Alessa and the Otherworld. For the next thirty years, Alessa lies in the Otherworld version of her hospital room with Dark Alessa watching over her and a nurse with burned eyes tending to her.
Alessa's hospital room is considered to be "the core of the darkness". Led by Christabella and the other cultists, Rose Da Silva enters the Otherworld version of the hospital to find answers about her missing daughter, Sharon. Christabella discovers the likeness between Sharon and Alessa and Cybil Bennett is captured as she defends Rose, who escapes the clutches of the cult and descends in an elevator into the basement of the hospital. After a close encounter with nurses in the basement, Rose finds the badly burned Alessa lying in a hospital bed. In an extended flashback, Rose learns the truth of how Alessa came to be burned and why the Otherworld exists, and she agrees to help Alessa gain her final revenge to save her daughter.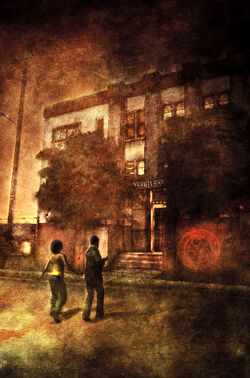 Dying Inside - Though not mentioned, it is assumed (based on events from Hunger), that the conflict between Whately and Lauryn LaRoache over the fate of a female patient occurs in Brookhaven Hospital.
Sinner's Reward - While searching for his girlfriend, Jack Stanton and Sara Linwood seek shelter inside of Brookhaven from a pair of wolf-like monsters. As they explore the hospital, Jack begins to hear screaming coming from the upper floors. Certain that it's Jillian Conway, his missing lover, Jack takes off to investigate with an unsure Sara following behind.
Trivia
In Silent Hill 2, the hospital name above the main entrance is misspelled "Blookhaven". This was corrected in Silent Hill 3.
In Silent Hill 2, the hospital isn't labeled on the map. This was also corrected in Silent Hill 3.
A sign in the reception office in Silent Hill 2 inexplicably reads "gonna beach in the sea".
Some fans believed that Mary was a patient at Brookhaven Hospital, due to a diary which James finds on the roof. However, Masahiro Ito confirmed that this is false.[1]
In Silent Hill 3, during Heather's climb and transition to the Otherworld version of the hospital, the corpse of a nurse can be seen near a wall with the words "what a wonderfull [sic] world" scrawled on it. This is a reference to the film The Exorcist III, in which nearly the same words and imagery appear.
In Silent Hill 3, if Heather re-enters the storeroom, the blood will not appear, but after being in the room for a few moments, the gurgling sound will occur again.
There are a few real-life Brookhaven Hospitals, including one in New York and one in Oklahoma, which is, in fact, a mental hospital.
Gallery
For a complete list of images of Brookhaven Hospital, see Brookhaven images.
Silent Hill 2
Silent Hill 3
Silent Hill: The Arcade
Silent Hill film