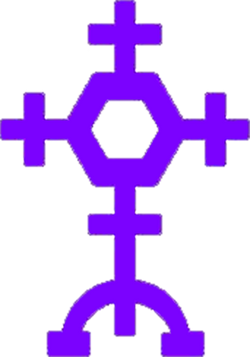 The Brethren Symbol is a symbol seen throughout the town of Silent Hill, West Virginia in the Silent Hill film and represents the religious fanatics responsible for the current hellish condition of the town. It is a symbol of their unity and faith.
The symbol consists of four crosses situated around a hexagon and laid over a small arch. The symbol appears in Midwich Elementary School, Brookhaven Hospital, the main church, the Grand Hotel and in the Sacrificial Chamber, showing how much influence the religion had in the town. Christabella, the priestess of the cult, and her followers kneel on a large painting of the symbol on the church floor in a ritualistic fashion to pray.
The symbol appears briefly in Silent Hill: Revelation, however, Revelation drastically changes the cult's symbol and beliefs, replacing the four crosses with the Halo of the Sun.
Trivia
Gallery