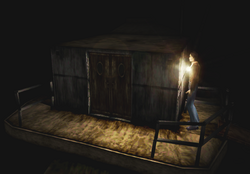 The unnamed boat appears in Silent Hill. It is located in Resort Area. Harry Mason visits the Boat on his way to the Lighthouse. Here he meets Cybil Bennett and Dahlia Gillespie. Harry visits the Boat after the town shifted to the Otherworld, so the Boat is in rust, dirt, and with a crucified disfigured corpse in it.
Trivia
It is the first location where three characters meet.
Harry can use the Channeling Stone to obtain the UFO Ending. The Channeling Stone should be used in the captain's room of the Boat.
Gallery